I'm going to go out on a limb and assume that you all are familiar with Instagram.
Whew, now that that's out of the way, let's talk photography apps.
It's taken some time, but I've finally found my groove when it comes to taking photos with my iPhone and sharing them on Instagram. When I look back at my early photostream, I cringe; there was no consistency to the photos I took, and the "editing" was horrendous! I've since fallen into a system that consists of running
my photos
through one of a handful of different filters and apps to achieve a more consistent style.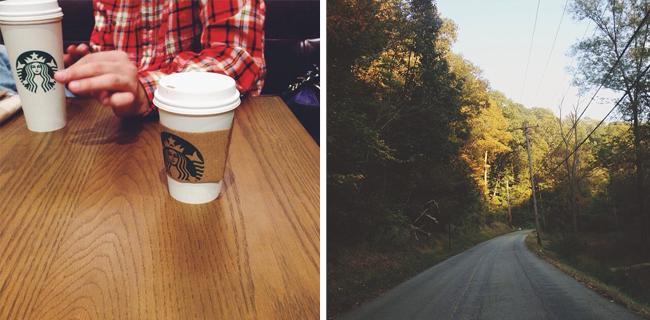 How do I prep my photos to make them Instagram-ready?
Afterlight
// My favorite editing app! You can crop, straighten, lighten; adjust contrast, saturation, temperature, and so much more. Standard editing options aside, Afterlight has
tons
of filters and film overlays for every occasion and type of photo imaginable. My go to filters are 'relic', 'breeze', and all of the season-specific options (though, they're good at just about any time of year!)
VSCOcam
// Why use one photo-editing app when you can use two!? I'm sure this makes life harder on myself, but I'm a fan of VSCOcam if only for the "portrait" filter. It's great for a quick fix on a selfie, and a pretty great all-around editing app as well. You could easily get away with using either this
or
Afterlight, but I like the variety of editing options both provide.
TimerCam
// I believe it was
ruKristin
who first turned me on to this app with her
#Thursday3 tag
. Taking a photo of yourself is hard, and your arm making an appearance in
every
selfie can make your Instagram stream kind of dull. With TimerCam, you can place your phone down wherever you'd like and snap a picture of yourself that's
not
limited to how far your arm can reach. Hoorah!
Instasize
// Sometimes I like to take normal-sized landscape photos (as opposed to square ones) but still upload them to Instagram. Instasize is great for uploading landscape pictures into a square format so that you can at least still share them on the photo-app giant.
Exhibit A
.
A Beautiful Mess
// For when I need to add some text to an image or do my
#currentlylist
card digitally. I'm still perfecting my ability to minimize and rotate text (my fingers aren't the most dexterous) but overall I've found this app to be the easiest way to customize my photos with words.
Bonus:
Collect
//
Kam
turned me on to this app after mentioning it in a Project Life post, I believe. You can set reminders to take a daily photo, and keep track of your photos in a calendar spread. Super handy for scrapbookers who want to keep their photos organized!
What are your favorite apps for taking photos on your phone?