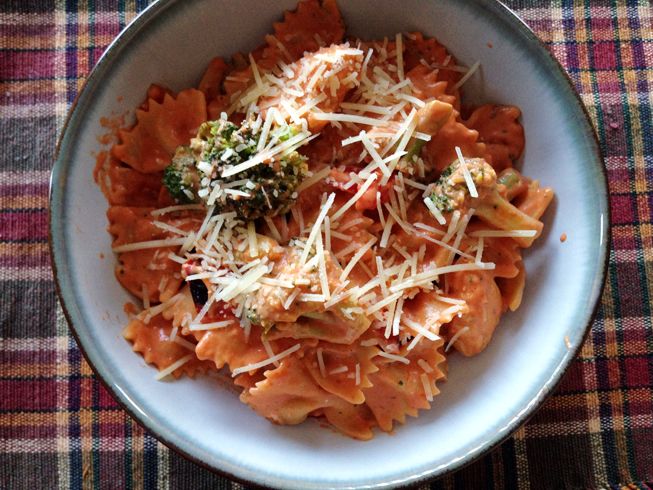 My love (is there a stronger word for love that applies in the case of noodles?) for pasta is no secret, but this recipe is one that gets made and eaten again and again in our house. It's simple enough to make after a long day at work and the need to shovel food in your face NOW, while looking and tasting quite decadent.
I've realized that I've come to add ingredients to this recipe intuitively versus measuring things out, so these measurements are fairly accurate but there's really no wrong answer -- it's all up to personal taste. If you like a little more broccoli or peppers, or find yourself munching on things while you're cooking, throw some more in there!
(I found this recipe somewhere a while ago, but can't remember where for the life of me. It's been tweaked a bit since, but if I find the original out there, credit will be given!)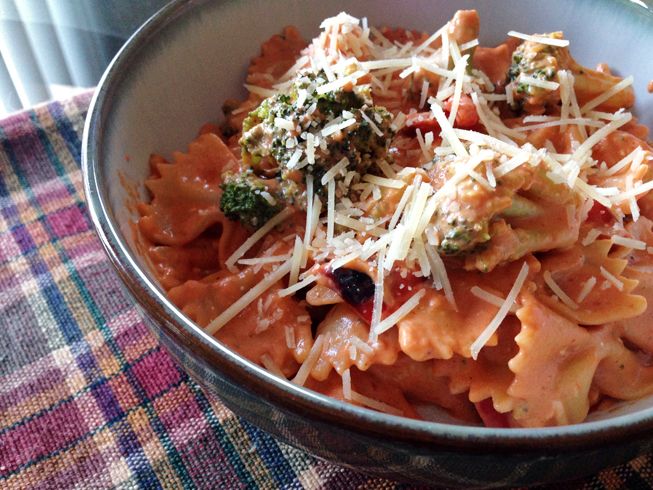 Ingredients
16 oz. farfalle pasta
2-3 cups broccoli florets
5 Tbsp. KRAFT Roasted Red Pepper Italian with Parmesan Dressing
3 small boneless, skinless chicken breasts, cubed
2 cloves garlic, minced
2 roasted red peppers, chopped
2 cups tomato sauce
4 oz. Neufchatel cheese, cubed
1/4 cup Grated Parmesan Cheese, plus extra for serving
Roast your red peppers at 400F for 20 minutes or so, until nice and black at the edges.
While the peppers are roasting, cook the pasta and steam your broccoli.
In a separate pan, heat 3 tbsp. dressing in pan and add chicken, turning, until cooked through. Once the chicken is cooked, add the sliced red peppers, garlic and broccoli, along with 2 tbsp dressing. Cook until heated through.
Combine pasta, and chicken-vegetable mixture.
In the meantime, heat the cream cheese and tomato sauce in the pan until cheese melts and sauce is creamy. Toss pasta to coat.
Top with a little extra parmesan and serve!